S.K Mahapatra
Director
director@ksom.ac.in
MA(Delhi), Ph.D.(Utkal), PGDM  M.D.I, Gurgaon
Prof S. K Mahapatra has donned many hats with distinction in his long professional career spanning 30 years in Industry and eight years in academics. He has held leadership positions in renowned Corporate Groups in India like TATA, Bajaj and Jindal, including Navaratna PSU SAIL and multinational POSCO. He has taught at XIMB and has been Director of Jaipuria School of Business at NCR since July 2016. After his joining at the helm the B-School has registered a phenomenal growth in reputation in NCR for all round development.
Until July 2016, he was in the corporate sector, as the President – HR at Bajaj Power Ventures and his strategic HR intervention helped the group to commission 1980 MW power project in one fiscal, which is a record in Power Sector. Earlier he has served as Group Ethics Officer of Jindal Steel & Power Ltd. and Vice President & Head of HR, Personnel & Administration at JSPL in Odisha for 4 years. Under his watch, JSPL project phase -1 was successfully commissioned, overcoming humongous challenges of land acquisition. Earlier he was the Company HR Head at POSCO India and Chief of HR at Tata Metaliks. He has led one of the most successful acquisitions at Tata Metaliks and headed the Unit post acquisition, posting a remarkable turnaround of the acquired steel plant.
Prof Mahapatra has had substantial experience in handling large teams, diverse workforce, and has overseen critical staffing issues through Project Execution, Commissioning as well as Operations. He has been highly innovative in strategizing solutions for complex problems involving people and the community.
Early in his career, he worked in Steel Authority of India starting as a Management Trainee and he has honed his IR and Employee Engagement skills working hard from shop floor upwards, rising to Senior Management level.
Prof Mahapatra had a mid-career stint of four years as a full-time faculty in HR & IR at the Xavier Institute of Management, and was highly acclaimed for his research, teaching, corporate training and consulting. He was a ADB consultant on behalf of M/s PA Consulting Indonesia for Assam Power Sector Reforms, and OD consultant to DRDO at Integrated Test Range, Chandipur. He has conducted MDP on Conciliation and Arbitration for the top brass of OERC including the Chairman. He has trained the senior officers of Government Labour Departments of Eastern Region organized by Labour Commissioner. He has presented his research at the International IR Association Congress in Seoul.
Prof Mahapatra has worked and travelled extensively across India and visited UK, Ireland, France, Germany, Netherlands, USA, South Korea, Thailand and Bhutan. Recently, he has visited the top Universities in Korea as a member of FICCI Higher Education delegation.
Dr Mahapatra is Past President of National HRD Network, Bhubaneswar. Professionally networked, he is a life member of NHRDN, National Institute of Personal Management, Indian Society of Labour Economics, Indian Society of Training & Development, and he is also a member of SHRM global network.
He has domain expertise in all areas of Human Resource Management and he is widely acknowledged as a Thinker, Strategist and Turnaround Specialist wherever HR issues have become critical for survival or sustainable success of the Organisation.
Dr SK Mahapatra holds a Master Degree in Political Science from the University of Delhi, Masters Degree in Public Administration from Sambalpur University, Post Graduate Diploma in Management from M.D.I, Gurgaon and was awarded a doctorate from Utkal University.
S.N Mishra
Dean
dean@ksom.ac.in
IES, IDAS, Ph.D. (Economics), MA (Applied Economics)
Prof. S.N Misra, did his MA in Applied Economics with International Trade and Statistics as his special papers with first class. He did his Ph.D. (Economics) on "Challenges, Before Self-Reliance in Critical Defence Technology", a pioneering area on the subject. Initially he was the Indian Economics Service (1976-79) when he did Cost Benefit Analysis of World Bank Projects and handled International Development Agency (IDA) desk. Thereafter, he was an Officer in the Indian Defence  Accounts Service (1979-2012), when he served as Director (Finance) with DRDO, Financial Advisor and Joint Secretary to Indian Air Force & JS (Aero Space). He authored the Defence Procurement Manual (2005), drawing encomiums for the Prime Minister's Office. Before voluntary retirement in 2012, he was Principal Controller of Defence Accounts (Navy) & PCDA (Southern Command) in the rank of Addl. Secretary to Govt. of India. He was  trained in IRBM, California, Defense Acquisition University, Washington, Marshall Institute of Strategic Studies, Munich, IIMs, Calcutta and Bangalore.
Post retirement, he teaches Economics and Constitutional Law in KIIT University and contributes handsomely to prestigious journals on Development Economics, Defence and Public Policy. He is a regular columnist in Orissa Post and speaks passionately in important fora. He also writes in a blog : misrasn54@wordpress.com
Ashok Kumar Sar
Professor
aksar@ksom.ac.in
PGDM (XIMB), Ph. D
Prof. Ashok K. Sar is member of faculty in the Strategic Management area. He has a blend of working experience, 20 years in industry and 20 years in academics. For the last 15 years, he has been in full time academic positions (five years of academic experience as Adjunct Faculty Member concurrent to his industry assignment). He served as the Dean of Faculty, KIIT School of Management during 2010 – 2016. He teaches core courses in Strategic Management and Business Ethics & Corporate Social Responsibility and elective course in Pricing Management. He has conducted MDPs for working executives in the areas of Personal Effectiveness, Building Learning Organization, Strategy Execution, Time Management and Quality & Effectiveness through Systems Thinking. He has also developed an eight weeks executive education programme in general management for young working executives. He is in the panel of visiting faculty members at the Odisha Judicial Academy, and trains the state Judicial Officers on Management Skills. Prior to his present assignment, he worked with Bharat Petroleum Corporation Limited (BPCL) for twenty years in varied areas of responsibilities, such as,  Marketing Operations, Sales and Supply Network Planning & Development, Business Development in Retail, Industrial & Consumer Segments, LPG and Lubricants; Training & Development; Business Partner – Human Resource Management; Management Control and Reporting Systems; and Enterprise Resource Planning.
He published thirty papers & case studies in peer reviewed journals, eleven of which are in SCOPUS/ Web of Science/ ABDC index/ list. He has guided four Ph.D. scholars and is guiding six more scholars, who are in various stages of their research work. He is currently working on an ICSSR-IMPRESS funded research project titled- "Impact of Dynamic Capability on Success of Entrepreneurs: A Study of Small and Medium Manufacturers in Odisha".
Surya Narayan Mishra
Assistant Professor
surya.mishra@ksom.ac.in
B.Arch (IIT Kharagpur), PGPM (IIM Lucknow)
He has worked with leading companies like ITC Limited and Nokia India Pvt. Ltd. in diverse roles in Sales and Distribution and Brand Marketing. He has helped shape some of the upcoming brands in personal category with ITC Limited. He has been a Merit-Cum-Mean Scholar at IIT Kharagpur, an NTS Scholar, an National Science Talent Scholar for 5 years consecutively, a winner in Regional Mathematics Olympiad and Astronomy Olympiad and national camp member.
Ashutosh Kar
Associate Professor
ashutoshkar@ksom.ac.in
B.E. Electrical (NIT Rourkela), PGDBM (IIM Ahmedabad)
In a career spanning more than 11 years, he has served leading Indian and multinational organizations such as IBM and TCS with global work experience in countries such as Sweden and United States. Areas of expertise include Strategic Account Planning, Presales / Business Development, Domain Practice, Advisory Relationships and Partnerships. He is a Regional Mathematics Olympiad Winner and also a recipient of the prestigious T. Thomas Scholarship for Business Leaders Award given by Hindustan Unilever Limited. Before joining KIIT, he was working as a Senior Account Manager with Syntel India.
Manoj Kumar Jena
Assistant Professor
manoj.jena@ksom.ac.in
B.Tech. (CET Bhubaneswar), M.Tech. (IIT Bombay), PGDM (IIM Calcutta)
Prof. Manoj has corporate experience of over 10 years spanning diverse sectors such as manufacturing, IT, Automotive, and finance. He has worked in different projects for companies like OCFL, WIPRO, Geometrics Ltd, Dana Automobile, and Institutional Investors Advisory Services (IiAS): capital markets, Mumbai.
His area of interest includes Data Analytics & Machine Learning, Predictive Modelling, Dynamic Pricing, Operations management, Logistics and supply chain management and Analytics, Corporate finance and Economics.
Kaushik Sahu
Senior Professor
kaushik@ksom.ac.in
Ph.D. (University of Massachusetts, Amherst), M.Tech (R.E.C. Rourkela), B.Sc (Engg) (U.C.E. Burla)
Prof. Sahu is a Sr. Professor in Technology & Operation Management area. He has taught at KIIT, XIMB, NIT-Rourkela, CET Bhubaneswar and has 32 years of academic experience. He offers web-enhanced courses in a learner-centric environment and adopts the constructivist pedagogical approach to teaching. More.
Sumita Mishra
Associate Professor
sumita.mishra@ksom.ac.in
MSW (TISS), FPM (MDI, Gurgaon)
Prof. Mishra is an alumnus of the Tata Institute of Social Sciences (TISS), Mumbai, where she earned a masters degree in social work. She is a Fellow from the Management Development Institute, Gurgaon. Besides having worked for organizations like CAPART, UNICEF and Tata Refractories Limited, she also has 7 years of teaching experience. She has published several papers in referred journals such as Asian Case Research Journal, Decision, Indian Journal of Industrial Relations, Management Review, International Journal of Indian Culture and Business Management etc. and has also presented papers in national and international conferences of repute. Her interests are in the area of organisational culture, group culture, Strategic Human Resource Management, Social Psychology and Organization Design.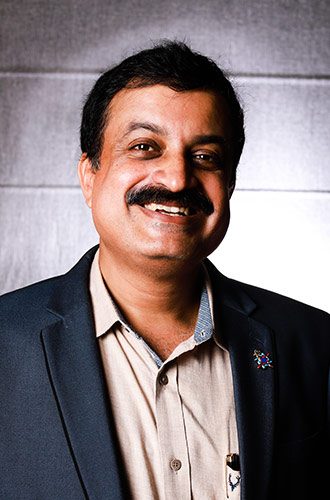 Kumar Mohanty
Professor, Director- Corporate Relations
kumar@ksom.ac.in, m.kumar@kiit.ac.in
B.Tech., PGDM (XIMB), Ph.D.
B.Tech with PGDM from Xavier Institute Of Management, Bhubhaneswar with more than 14 years of experience as a Marketing Manager with Nicco, then as Branch manager with Jenson and Nicholson and Finolex Cables as an AGM-Sales and as Business Head with IMS before joining KIIT.
Jyotiranjan Hota
Associate Professor
jrhota@ksom.ac.in
BE Computer Science & Engg (NIT Rourkela), PGDBM (XIMB), Ph. D (Business Administration, DBA) from FMS&R, AMU, Aligarh
Prof. Hota has around 16 years of experience in teaching and research. His areas of interest include Data Science, Machine Learning, Data Mining, SAP functional modules, R and Python. His Ph D. thesis is based on Adoption of Multivendor ATM technology in India. His thesis identifies the issues pertaining to the adoption of this technology from customer, supplier and banker's perspective. In his study, he has developed and validated several qualitative and quantitative models on drivers and barriers of Multivendor ATM technology adoption.
Prof. Hota is an AIMA accredited Management teacher in IT Area. He has published several papers in referred journals and international conferences. He has served as program committee member, advisory board member, scientific committee member, technical committee member, academic committee member, track chair, session chair and publicity chair of international conferences in India and abroad. He is the recipient of ICBM-AMP Academic Excellence Awards 2018 in the category of 'Best Professor in IT and Operations' held at Hyderabad.
Brajaballav Kar
Associate Professor
braja.kar@ksom.ac.in
B.Tech, PGDM (XIMB), Ph D
Prof. B Kar has earned his Ph D at the school with Entrepreneurship as the area of specialization. He has over 15 years of rich experience in organizations like SAIL, Sonata Software Ltd, Oracle India, Quark India, Four-Soft and Karak technologies. He has been working on technologies such as ERP, CRM, SCM and has experience working with different ERP systems like Oracle Apps, MFG-Pro and SCALA. He also has dealt with business functions like Purchase, Sales, Warehousing & Inventory management, Supply Chain, Forecasting, Production Planning & Execution, MRP, and Accounting.
His papers have been published in many different National and International journals.
Sugato Tripathy
Assistant Professor
sugatotripathy@ksom.ac.in
B.Tech (VTU)., MBA (IBS Hyderabad), UGC NET (2012), PhD, KSOM, KIIT (Pursuing)
Awarded the best faculty of KSOM by KIIT University for 2019, he has 12 years of experience with 5 years in corporate and 7 years in academics. His corporate stint was with HDFC Bank – Credit Cards, where he was in charge of product and portfolio management. His expertise lies in new product development, branding, strategic alliance, merchant acquiring, revenue generation & cost control, channel management, team building, service delivery, catalogue marketing and statutory compliance. During his stint with HDFC Bank, he was instrumental in forging several national and key regional merchant tie-ups across the categories of electronics, telecom, travel, jewellery and personal care. He has also won the Master Card Hall of Fame Award for handling a joint Pan India program, which was judged as the best usage program by any bank in Asia. Apart from his teaching assignments, he is currently the Head of Branding and Marketing for KIIT School of Management and KIIT School of Rural Management.
Jitendra Mohanty
Professor
jmohanty@ksom.ac.in
M.A., LLB.,(Utkal), PGDM (XIMB), CAIIB , Ph.D(Utkal)
A person with great zeal and enthusiasm has 24 years experience in credit and corporate banking in Andhra Bank,(India); National bank of Oman,Abudhabi, Investment Bank, Sharjah, National Bank of Umm Al Qwain(Dubai) and SREI Infrastructure Finance Ltd. (India). Additionally, he has 12 years of experience teaching MBA/PGDM students.
Ipseeta Satpathy
Senior Professor
ipseeta@ksom.ac.in
MA, M.Phil. (JNU, New Delhi), Ph.D , D.Litt. (Utkal)
Prof. Satpathy has over 19 years of experience in teaching,research and administration in KIIT University. She has authored five text books such as "Environment Management", "Business Communication & Personality Development" published by Excel books, New Delhi, Transnational Marketing Strategy, published by New Age International Publishers , Organizational Communication published by  Lap Lambert, Mauritius and Empowering Award Staff by Revamping Training System in Banks, published by Lap Lambert, Germany.
Dr Satpathy has published more than 180 research papers in various referred national & international journals including journals in ABDC category ,conference proceedings and has more than 45 research papers in Scopus indexed journals.
Prof. Satpathy is a visiting professor to Lynchburg College, Virginia, USA and has attended/presented research papers in several international conferences including the International Conference on HRM &PD in the Digital Age in Singapore, Cambridge Business & Economics Conference, Cambridge University, UK, and some of her research papers have also won the Best Paper Award including one which was adjudged as the best paper by Emerald group publishing ltd.
Prof Satpathy has conducted a number of Management Development Programmes, and is guiding several research scholars for the Ph.D degree. Fourteen of her scholars have been awarded Ph.D degree by KIIT University. Dr Satpathy has been awarded the prestigious Oxford Journal Distinguished Research Professor Award 2014 at Cambridge University, London. Dr Satpathy was invited by University of Massachusetts, Dartmouth, USA to address the faculties & the students.
Joydeep Biswas
Assistant Professor
joydeep.biswas@ksom.ac.in
PGDM (XLRI Jamshedpur), B. Tech (IIT – BHU, Varanasi)
Joydeep has close to 8 years of industry experience in premier companies like ITC, Nokia and IBM. He has worked in domains of Sales, Distribution Management, Brand Marketing and CRM. His experience spans across industries like FMCG foods, tobacco, mobile devices and IT services. Joydeep was a recipient of academic merit scholarship by Provident Fund of India at IIT BHU. Before joining KIIT, he was heading Kerala for ITC foods as Assistant Branch Manager.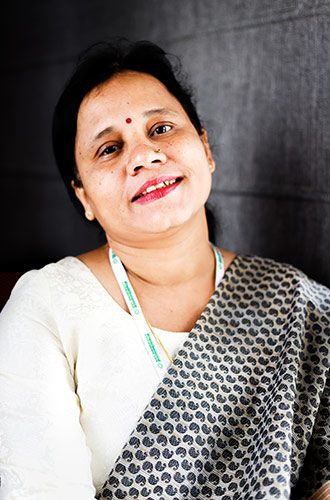 Sasmita Mishra
Associate Professor
sasmita.mishra@ksom.ac.in
M.A, M. Phil. (Utakal), Ph. D. (IIT KGP)
Prof. Mishra is currently an Assistant Professor in the area of Organisational Behaviour and Human Resource Management at KSOM. She has done her M.A., M.Phil. in Psychology from Utkal University and Ph.D. in Social Science from IIT Kharagpur. She has also qualified UGC NET test and obtained Scholarship to pursue Ph. D. at IIT Kharagpur.
Prof. Mishra has 11 years of teaching experience in B-schools. Her area of interest includes Business Research Methods, Organisational Behaviour, Human Resource Management, Performance Management System, Training and Development. She has published number of papers in referred international journals such as Journal of Environmental Psychology, Journal of Applied Social Psychology, Asian Journal of Social Psychology, Psychology and Developing Societies etc.
She has also worked at L & T Heavy Civil Infrastructure Independent Company as Training Manager. While working at L & T, she was involved in Designing training / intervention programmes / and imparting training in different topics such as Time management, Stress management, Interpersonal Skills, JOHARI Window, Emotional Quotient, Team Building, Work-life balance, Leadership, and Decision making.
Arvind Tripathy
Assistant Professor
arvind@ksom.ac.in
MBA, Ph.D. (Management), FDP (IIM Ahmedabad)
Prof. Arvind Tripathy is associated with School of Management since 2008. He has 25years of experience consisting of 7 years of corporate experience and 18 years in academics. A Ph.D. in Management in the marketing area, he is an alumnus of the Department of Business Administration, Utkal University. He is an alumnus of IIM Ahmedabad (FDP program 2013). His Ph.D. topic was "A multilevel exploration of factors influencing retail image and patronage and service quality assessment of retail centres". He was associated with the advertising industry in Mumbai and Bangalore and media services in IT training Kolkata. Later he moved to the academic world of management education.
Apart from his teaching assignments, he is actively involved in MDPs in organizations like SIDBI, IDBI Bank, Utkalika, OFSDP, Mahanadi Coal Fields and in-house training programs of All India Radio & Doordarshan. He has been a resource person/trainer in various marketing workshops of national and international fame. 'Enhancing the capacity of middle and small scale enterprises in Orissa Regional Chapter' was a European Union- Govt. of India project. Served as a marketing consultant for 'Capacity enhancing' program for the craftsman and handicrafts trading societies from Orissa organized by Trade Kraft UK and IRFT Mumbai. He is also involved in projects from Indian Council of Social Science Research, New Delhi (Ministry of MHRD, Govt. of India) in social sector as  Co-Project Investigator.
B.C.M.Patnaik
Professor
bcmpatnaik@ksom.ac.in
M.Com, Ph.D., PDF (Pursuing )
More than 20 years of rich experience in Educational Research, Content and Creative initiative at both post graduate and undergraduate level, ability to handle core administration related activities such as infrastructure, facility, human resources, training and development of staff members and organizational behavior and organization development. Possessing valuable insights, keen analysis and team approach to implement best practices, adept at working in high pressure environments with strict deadlines and multiple deliverables. Introduce knowledge and assist the students to develop the skills necessary for success.
As a faculty of Accounts & Finance, introduced students to the principles, process, tools and techniques becoming the foundation of their ability to understand and take up challenges throughout their education and into their professional careers. Expertise in planning, organizing, coordinating and monitoring all types of curricular and co-curricular activities for the overall development of personality of students. Devoted teacher striving to help students change marginal grades into good grades and supporting colleagues and administration in facilitating each child's social and intellectual growth by creating an atmosphere of mutual respect and open communication.  Guided 15 Ph.D Scholars and guiding 6 scholars. Published more than 150 papers including 34 papers in Scopus indexed journals. Awarded Best Faculty 4 times.
Biswajit Das
Professor
biswajit@ksom.ac.in
M.A. (Eng), M.B.A., LL.B., M.A. (Pub.Admn.), Ph.D.(Mgmt) Utkal
Dr. Das joined KIIT University since 1999 and has 30 years of experience in academia, administration and government. He has authored 12 books (national and International), 194 research papers (National and International), awarded with 21 Ph.D. research scholars (Indian and International) & 8 scholars are under guidance and implemented funded projects. His outstanding books include 'Real Estate Market' (Excel Books), 'Transnational Marketing Strategy' (New Age Publication) and 'Business Communication and Personality Development' (Excel Books). Prof. Das was Member-Board of Management, Member -Academic Council, Deputy Registrar (Academics), Chairperson- Doctoral Programme, Chairperson- Marketing Management Area and has been instrumental in the institution building process of KSOM since its inception. He has Board of studies member of several state and central universities and external expert for Ph.D. scholars, invited as speaker and conducts MDP.
Prof. Das is a visiting external expert (opponent) to Tallinn University of Technology (TUT), Estonia-Europe for doctoral research and has presented sever research papers in national and international conferences (adjudged with best paper) in South East Asia, Europe, Middle East, particularly in NTU-Singapore, SQU-Oman, AIT-Bangkok and TUT-Estonia in the domain of value creation, servitisation, Economic inclusion, digital markets, disaster resilience, communication & advertising , real estate and eco-tourism.
Biswajeet Patnaik
Assistant Professor
biswajeet.patnaik@ksom.ac.in
BE ( E&Tc Engg.), MBA
He has six years of corporate experience and over 7 years of academic experience. He has worked in Telecommunication, Media and Education industries across India. His areas of interest include Consumer Behavior, B2B Marketing & Entrepreneurship.
Debi Prasad Das
Assistant Professor
debiprasad@ksom.ac.in
MBA in Human Resource Management, Utkal University 2004., Ph.D
Professor Debi Das has earned his Ph D in the area of Human Resource and Organizational Behavior from KIIT School of Management.His research topic is centered around 'Employee Turnover and its Effect on Organization'. He has eight years of experience in Tata group companies which includes International logistics, Roots Corporation Limited a 100% subsidiary of Taj Group and Tata Steel Ferro alloys mineral division. His job profile was to Facilitating and to maintain harmonious industrial relations, inculcating a culture of discipline between employee and management, union-management relationship through joint consultations and bipartite and tripartite mechanism and part of class training on personality development and business etiquettes.
P.R. Sahoo
Associate Professor
prsahoo@ksom.ac.in
Hotel Management, Master in Tourism Management, M.B.A., Ph.D. (Management).
Prof. Sahoo has more than 23 years of experience in both industry and academics. He served at various Managerial positions with Indian Tourism Development Corporation (ITDC) from 1994 to 2003 and was teaching at Birla Institute of Technology, Mesra, Ranchi from 2003 to 2009 as a Reader prior to joining KIIT University in 2009.
He received Ph.D. degree for his doctoral research work on the theme "An Analytical Study on the Perception for the Application of Electronic Distribution System by the Hospitality Industry". He has published several research papers which are indexed in Scopus, ABDC, and UGC approved journals.
He is an active member of many professional academic bodies. He has provided several consultancy services to many leading Hospitality and Service Industries of the country. Prof. Sahoo has conducted five training programmes for Govt. /Corporate Sector agencies. Dr. Sahoo has been a resource person for several Faculty Development Programmes/ MDP/ Workshops/Conferences/ Seminars.
His teaching and research interests include Services Marketing, Hospitality and Tourism Management, E-Commerce, Sales and Distribution.
Rabi N. Subudhi
Senior Professor
rnsubudhi@ksom.ac.in
M.Phil. (Stat), Ph.D. (Management).
Prof. Subudhi is presently a Senior Professor in the area of Quantitative Methods – Decision Sciences, with over 32 years of teaching experience at University level. He has served earlier at Berhampur University, VIT B-School of VIT University, and KIIT School of Rural Management (KSRM), for their MBA programmes. He has done FDPM from IIM Ahmadabad. He received Senior Research Fellowship (SRF) award of CSIR, Govt. of India, for his doctoral research.
He is an active member of many reputed international academic society, like: American Society of Engg. Mgmt (ASEM), ISA-RC (International Sociology Association 'Research Methodology' Sec.), IFORS, ORSI, ICA and ICAS (Int. Conv. of Asian Scholars).
He has published/ edited 8 books and authored over 60 research papers. He is an active member of many professional academic bodies and also member of 'Board of Studies' of different Universities. For 6 years he was the editor of management research journal 'Strategy' (of BU), and presently in charge of editing, KIIT Management Research Journal – Parikalpana. He has also published many articles in regional language and takes interest in Children's literature. He was the founding editor of a children's fortnightly, 'Suman'.
Saroj K. Routray
Associate Professor
saroj@ksom.ac.in
MBA, M.Com, ICWA, PhD Continuing
With a major exposure of over a decade in teaching, he holds a rich experience of 14 years both in industry as well as in academics. He has served in various organizations ranging from heavy engineering equipments, automobiles and educational institutions. Apart from handling full time courses in Finance and Accounting, he has been involved in many MDPs as a resource person for leading organizations like UNICEF, Hindalco, OPTCL, Vedanta Aluminum, Visa Steel, PPL, OHPC, IMFA, CESU & Stone India.
He has been a consultant for monitoring and evaluation of CAPART sponsored projects in Odisha, West Bengal and Chhatisgarh. As an avid researcher, he has couple of research papers and case studies to his credit. His current research interest lies in the area of Corporate Governance and Firm Performance, which coincidentally is an area of his doctoral program.
Srikant Charan Das
Associate Professor
srikant@kiit.ac.in
B.Tech., PGDCA, M.Tech., MISTE, Ph.D
He has more than 24 years of academic and corporate experience. He has handled several research projects in the area of software development and ITES. Prior to joining KSOM, he was Director , MBA & MCA , RIT, Kalunga, and CEO of Megacall Technologies Pvt. Ltd., Noida(UP), an International Call Centre. His Current Research and Consulting includes Corporate Social Responsibility in IT industries, IT Infrastructure Management and Call Centre Management. Recipient of Outstanding International paper Reviewer from CMR for year 2008. Member of Editorial Board of International Journal CMR since 2009,Fellow Member of Internet Society, Kolkata Chapter, Member of CIO Association of India.He is working as Head of ICT Cell, KIIT University as an additional assignment.
Shradha Padhi
Associate Professor
shradha_padhi@ksom.ac.in
LL.B., LL.M, Ph.D
Shradha has over 20 years of professional experience which includes over 17+ years in the field of Learning and Development. Her areas of expertise include Leadership Development, Customer Relations, Diversity Management, Team Building, Instructional Design, mentoring and coaching. Apart from this, Shradha has also been responsible for designing several competency development initiatives for various strategic regional units, verticals and circles. She also had a stint as a Talent Manager conceptualizing re-skilling programs for future business requirements.
Shradha had facilitated programs on varied topics, both in India and abroad, which includes Leadership, High Performance Team, Culture and Gender Diversity, Customer Relation, Creative Thinking, Personal Effectiveness, Coaching etc in different sectors like IT, Manufacturing, BPO, NGOs etc
She has many certificates to her credit which includes Thomas Profiling, Interviewing Skills, Competitive Intelligence, Coaching and Consulting. She holds a Masters Degree in Law and MBA in HR. She completed her doctoral in "Ethics in Project Management".
Abhishek Kumar
Associate Professor
abhishekkr5@ksom.ac.in
MBA, Ph.D.
With over 7 years of industry experience he has served companies like Standard Charted Bank, ICICI Prudential and Tata AIG Life and has been in roles ranging from Manager to Branch Head.
Prof. Kumar has got the highest award and acclamation during his tenure in said organisations. For example, Winner of "Superstar of the Company" in ICICI Prudential, recipient of "Hercules Award" in Tata AIG Life for the financial year 2008-2009. He was sent to Dubai for the best performance where he achieved No. 1 position PAN INDIA. Promoted as Branch Head in 2009 Prof. Kumar became the best Branch Head and received the most prestigious award "Hour of Power" thrice during his stint which depicts his dedication towards work.
His area of research includes Marketing Management and Monetary Policy. More than a dozen research papers in regional and national seminars are to his credit. Prof. Kumar was awarded with ' Dr. Asha Sablok Memorial Gold Medal' for the best conference research paper. He has authored books like "Central Loans to States and Finance Commission","Impact of Global Financial Crisis on Indian Economy", "Micro Finance and Rural Development" and "Market Reforms and Inclusive Growth".
His edited book "Central Loans to States and Finance Commission" has been released by Dr. Montek Singh Ahuwalia, Deputy Chairman, Planning Commission of India in the 93rd Annual Conference of the Indian Economic Association.
Shikta Singh
Associate Professor
shiktasingh@ksom.ac.in
M.A (Economics), M. Phil(A& A Economics), PhD(Economics)
Prof. Shikta Singh is presently working as an Assistant Professor in the area of Finance & Economics at KIIT School of Management, KIIT University, Bhubaneswar. She has been an alumnus of Utkal University, Ravenshaw University and Pune University and has completed her PhD  in the area of Industrial Economics . She brings with her more than 8 years of teaching experience both at Post Graduate (Utkal University) and at Management School level (Abhinav Institute of Management & Research, Pune). She has been a visiting faculty to Symbiosis School of Economics, Pune. Her current research interest lies in various Macro Economic issues, the area of Economic Environment of Business, Behavioural Finance,  Corporate Social Responsibility, Industrial economics and Development Economics. Apart from that, her past research work includes – Rural Economic Development & Elimination of Regional Disparity, Issues on Gender Disparity & Women Empowerment, Economic & Social Impact of AIDS, Anatomy of Poverty & Unemployment in the state of Odisha,  Issues on MDGs and SDGs. She has authored around 18 research papers of national and international repute and has published 4 Book chapters and One Book on Restructuring Industrialisation in Indian Economy. She has been guiding 5 research scholars, of which one is an international scholar.
She has worked for two research projects for RBI Bulletin and one on Health care for a Consultancy. She has been a Resource Person as a Keynote Speaker to some of the reputed institution in the country and state as well . She has presented papers in various International Conferences viz. in Singapore 2014, ERAZ Conference held at Belgrade 2017 , and  ICOM 2017 Conference at Abu Dhabi. She has also presented papers on the Industrial linkages of NALCO, Financial Management  and Paradigm shift in conduct of Monetary & Exchange Rate Policy at the India Economic Conferences. She has been a position holder in her 12th, Post graduate and M.Phil level and has received gold medal for the same . Apart from that she has got 0.1 merit certificate and Gold medal for being the All India Topper in Economics during 12th board.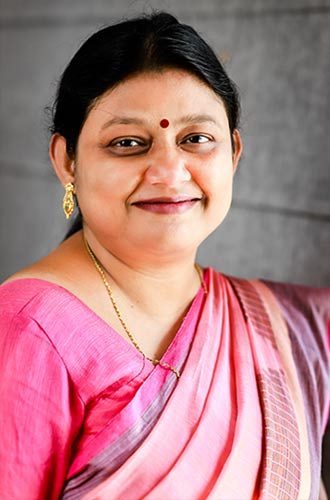 Ipsita Nayak
Assistant Professor
ipsita.nayak@ksom.ac.in
M.A., M.Phil. (Ravenshaw Autonomous College) , PhD (Utkal University)
She has completed her M.Phil. from Ravenshaw (Autonomous) College and a short-term course in Communication and Management Essentials from IIT, Kharagpur. She has done her doctoral research on the theme of "Social Exclusion" in the area of fiction and has been awarded PhD degree from Utkal University. She has a throughout-first-class career and more than 13 years of teaching experience in the area of Communicative English, Business Communication and Managerial Communication. She conducts training programmes for employees at various capacities in different organizations. She has designed and facilitated training at NINL, NTPC, Tata Power, and Toshiba.
She has an expertise in designing activity-based learning sessions and provides personalized solutions to the problems concerning the communication competency of students/ trainees. She believes in upgrading herself with perpetual research. Her research orientation is reflected in her numerous presentations in seminars and conferences and in her publications in both print and electronic media.
Koustubh Kanti Ray
Professor
kkray@ksom.ac.in
M.Com, PGDBM, Ph.D. (Utkal)
He is currently a Professor of Finance at School of Management, KIIT Deemed to be University, an Institute of Eminence awarded by MHRD, GoI.  In a career spanning more than a decade, he has served in leading national level institutions in the country – Indian Institute of Forest Management, Bhopal; Indian Institute of Management, Raipur, and Institute for Financial Management and Research, Chennai. Dr. Ray has a passion for teaching and taught business valuation, financial engineering, merger & acquisition and corporate finance at one or more of the above institutions. He regularly conducts management training programs for corporate and government executives in finance and related subjects. His research interests are mainly in the areas of corporate finance and financial markets.
Saptorshi Das
Assistant Professor
saptorshi.das@ksom.ac.in
Postdoc (Oxford), Ph.D.(NIT)
With more than a decade of being a professor and a researcher, complimented by journal and book publications, training sessions in collaboration with the Govt of India, British Council, University of Cambridge, and Bournville College, UK, makes Dr Saptorshi Das not just interested in , but extremely passionate about her profession and vocation of teaching. Dr Das wishes to be not just a teacher to her students, but a mentor, guide, and confidant as well. When she is not sharing her knowledge of English, and its most effective nuances with her students, she loves creative and literary writing, travelling and painting. And above all, she loves spending time with her students.
Gargi Banerjee
Assistant Professor
gargi.banerjee@ksom.ac.in
MBA (IISWBM, Calcutta University), BA (English Honours, Scottish Church College, Calcutta University)
Gargi Banerjee has over 4 years of work experience in the Corporate sector. She started her career in the Wealth Management department of ICICI Bank and then forayed into the sector of International Trade by working as a Trade and Forex Manager for the Export Import Transaction branch of ICICI Bank Kolkata. Previously, she has also worked as a student journalist for the Times of India, Kolkata Edition, wherein she wrote articles for a TOI column called 'The Times @ Campus'. She has also worked as a Research Assistant for two books written by Mr. P.K. Banerjee.
The first book 'Maha Bhasha and Maha Lipi' deals with a new, scientific and linguistic script for India. This new script is based on the amalgamation of all regional Indian scripts and has Sanskrit as its base, making it a united script for Indians across regions. The second book, 'Brahma Puja Meditation' looks at a new and elevated way of life, through meditation while combining Yoga with worship. Presently she is pursuing her PhD on the topic 'Gender Diversity in Indian organizations' from the school of Human Resource Management, XIMB, Xavier University, Bhubaneswar. She has presented articles and papers on workforce diversity at a number of national and international conferences and has contributed towards a book chapter for the upcoming book 'Handbook of Quantitative Methodology in Human Resource Management' which shall be published by IGI Global, USA.
Mohar Banerjee Biswas
Assistant Professor
mohar.biswas@ksom.ac.in
BCA (BIT, Mesra), MPIT (Symbiosis, Pune)
With a corporate experience of 12 years with leading multinational company like IBM, she has worked in varied domains including web technology, Siebel CRM, Software Quality and SAP. She has led multiple assignments in USA and worked as a Business Analyst for a variety of clients including Electronics and Pharma companies. She has also been a part of technical recruitment team for IBM. Her areas of interest include Web Technology, SAP, Data Warehousing and Business Analysis. She strongly believes in the Right to Education for all and that the right education is the way forward to eradicate a lot of problems being faced today
Isa Mishra
Associate Professor
isa.mishra@ksom.ac.in
MA (PMIR), M.Phil. (PMIR), LLB, Ph.D.
She has 20 years of working experience including two years as Faculty-HR at IBAT and over 18 years of experience in all gamuts of HR in varied sectors –Power, Telecom – both services & infrastructure & Port, both at corporate and site. This includes experience in Strategic and Operational HR & Administration in reputed companies like Orissa Hydro Power Corporation Ltd., a state Govt. PSU; AIRCEL; Dhamra Port Company Ltd. and Tata Refractories Ltd. During these work stints, she has played a lead role while designing, revamping & implementing customized HR processes, assisting management in wage rationalization, merger & acquisition and being a change agent during transitions. Corporate experience includes 12 years in lead HR & Admin role.
Her professional associations include being part of NHRDN, BBSR Chapter as Secretary from May, 2009 till March, 2014 & as Treasurer since April, 2014 till date. She has been Sub-Editor, NIPM, Utkal Chapter from Apr'00 till March'05. Since Dec'97, she has been conducting several personality development workshops & rendered classes at institutes including KSOM, IMIS, OEC, ASM, Silicon Engineering College, MSM for students prior to placement.
Her academical credentials include MA in PMIR (gold medalist of 93-95) batch; M. Phil. in PMIR; LLB & Ph.D. She is a certified Thomas International's PPA Practitioner since June, 2016
Praveen Mohanty
Professor
praveen.mohanty@ksom.ac.in
MA (PMIR), M.Phil. (PMIR), LLB, Ph.D.
Dr Praveen Mohanty is a Professor of Economics and Finance at KIIT School of Management. Prior to KSOM, Dr Mohanty spent over 20 years in the financial sector, working for organizations like ICICI Bank, Srei Infrastructure Finance, Edelweiss Finance, and Aptivaa Consulting in diverse roles. Over the years he has developed an expertise in the areas of risk management, structured finance, infrastructure project finance and strategic financial advisory. He is a pioneer in developing and using quantitative models to measure and price credit risk.
He also played an active role in developing the securitization market in India. Dr Mohanty earned his PhD in Economics from the University of Southern California and got his masters degree from JNU. His current research interests are in the areas of Financial Risk Management in banks & FIs; Financial Sector Regulatory System; Infrastructure Finance – Issues and Challenges (including PPP); and Corporate Bankruptcy Law and Banking NPL.
Ritika Sharma
Assistant Professor
ritika.sharma@ksom.ac.in
B.E. Food Tech(Panjab University), PGD-ABM (IIM Lucknow)
She has 4 years of corporate and entrepreneurial experience across FMCG, Telecom and education in domains of sales and distribution, key account management and business development. She has handled entire GSK Consumer Healthcare portfolio for leading modern trade accounts and with Airtel, she was an integral part in establishing Airtel Money foothold in Haryana region. Also, with a teaching experience of more than one year, she is now bringing her experience and insights to the classrooms. She strongly believes in open sharing and dissemination of knowledge for all.
PIYUSA P DAS
Assistant Professor
piyusa.das@ksom.ac.in
B.Tech (CET Bhubaneswar), PGDM (IIM Lucknow), PMP® Certified
He has overall 10 years of experience in Global Program Management, Strategic Marketing & Research, Business Development and Project Procurement.
Prior to MBA, he has worked in Hindustan Petroleum as a Purchase Officer for approximately 5 years (Sep 2006- June 2011). Afterwards he has completed his PGDM (Marketing & Operations) from Indian Institute of Management, Lucknow in March 2013. Post-MBA, he joined Ingersoll Rand (May 2013- April 2018) in Strategic Marketing & Research role where he supported various technology business development initiatives from top management. Later on, as a program manager he led cross-functional team to execute several New Product Development (NPD) projects. He has Proven skills in end-to-end project management (requirement gathering to product launch), Voice of Customer research, Business case development, New Product Development (NPD) processes
Some of his research interest areas are technology adoption/impact in marketing research and consumer behaviour, VoC for new product development etc
Chandrabhanu Das
Assistant Professor
chandrabhanudas@ksom.ac.in
B.E, MBA, Ph.D
Dr. Chandrabhanu Das is an Assistant Professor of Finance and Accounting at KIIT School of Management.With a Corporate experience of Fourteen Years with leading companies like JK Paper Ltd, ICICI Bank and TATA Refractories he has worked in varied Verticals in Finance Domain. He has led multiple assignments along with famous consulting firms BCG, Mckinsey etc. During these work stints Dr.Das has received many awards and accolades.He has received double promotion at JK Paper Ltd, best officer award for Branch Revenue-Opex model at ICICI Bank and CIP Finance Manager award  in TATA Excellence Innovation Contest due to continuous Improvement of payment system in the supply chain.
Dr. Das has also proven abilities in turning unstable units into money spinners and conducted many in-house projects for risk management in companies. His core areas are in the domain of FOREX and Corporate Credit.He has conducted FOREX Analytics workshop in reputed universities, guided many start ups in financing and investment in stock markets.
Dr.Das believes in transforming complex mathematical models and business processes into simpler modules for improving employ ability of students.In fact his Ph.D thesis was on skill development and employability of work force in Finance domain.His research interests are Capital Markets, Financial Analytics  and Banking Sector performance.
Bhuwandeep
Assistant Professor
bhuwandeep@ ksom.ac.in
PGDBM, IIM Bangalore, B.Tech (Hons) IIT Kharagpur
Bhuwandeep is a management professional with over 6 years of experience in Plant management, Quality Circle assessment, Supplier management, Project management Business Development and Marketing – across Steel, E commerce, Textiles, Cement and Mining businesses.
His expertise is in the domains of Sales, Marketing, Business development, Project planning and execution and Plant operations. He is has worked with Global Indian conglomerates like TATA group and Aditya Birla Group.
He is an alumnus of IIT Kharagpur where he was recipient of Merit Cum Means Scholarship. He has also done his PGDBM form IIM Bangalore in the areas of Marketing and Sales.
He has also done specialisation in Marketing from Rennes School of Business , Rennes , France as exchange program.
Buddhaditya Padhi
Assistant Professor
buddhaditya.padhi@ksom.ac.in
PGDM-AdCom, MBA (Marketing), Ph.D (Pursuing )
Prof. Padhi has over 15 years of work experience, of which 6 years has been in the industry and another 9 years in academics.   He has handled brand communications at a national level for companies like  Daikin Air Conditioners and  Satnam Overseas Ltd (Kohinoor Foods) in the capacity of brand manager. He started his career at Leo Burnett where he has handled advertising for brand accounts such Coca-Cola, Bajaj Fans, and Color Bar.   Prior to joining KSOM, he has worked with various academic institutions in the eastern region. He is also pursuing his doctorate work in the area of advertising. His teaching interests primarily are into advertising and IMC, brand management, and consumer psychology. He also has a deep passion into photography and Buddhist studies.
Biraj Kumar Mohanty
Associate Professor
biraj.mohanty@ksom.ac.in
M.Com (Utkal), PGDM (XIMB), PhD (Utkal)
Dr. Biraj Kumar Mohanty is an M. Com (Utkal), PGDM (XIMB), PhD (Utkal) having 15 years' industry experience in government, manufacturing and trading organisations involving a variety of jobs in both operational and strategic finance functions. Besides, he has another 15 years' academic experience in various management institutes across the country.
Prof. Mohanty has the research interest in the areas of microfinance, working capital management, security market, entrepreneurship with a focus on case-based empirical studies. He has conducted several MDPs for corporate and has good exposure in consulting for SME sector.
Malabika Sahoo
Faculty Associate
malabika.sahoo@ksom.ac.in
Ph.D (Management, Cont.), MA (Applied Economics), MBA (HR)
Ms Malabika Sahoo is faculty in HR and OB area.  She has 6 years of Academic experience. Prior to she worked for Manav Adhyayan Kendra for 14 years. As a Trainer she has conducted nearly 2,500 training programmes and motivational talks covering about 90 organisations across the country such as NTPC, NALCO, Aditya Birla, Cocacola, TSIL, TRL, Aditya Aluminium, JSPL, Vodafone, L & T, etc.  Earlier she was a visiting faculty to Birla Global University, KIIT School of Management and KIIT School of Rural Management.
Some of her research works have been published in referred journals such as Management Research Review, Emerald and Management and Labour Studies, Sage and has also presented papers in national & international conferences.
Ayushi Raichoudhury
Faculty Associate
ayushi@ksom.ac.in
MBA (Finance), Ph.D. (Pursuing)
She is an alumnus of KIIT School of Management, where she earned her Master's degree in Business Management with Finance as her specialization. She has completed a short-term course sponsored by AICTE on Research Methodology from IIT, Roorkee. She teaches Corporate Finance and Indian Financial System. Prior to Joining KIIT she was appointed by L&T Finance. She has published three research papers in referred journals such as Indian Economic Journal, SAGE; Asian Journal of Business Research, etc, which are indexed in Scopus and ABDC. Besides, she has also presented papers in national and international conferences of repute viz. IMRA-IIMB International Conference 2015 at IIM Bangalore, 58th ISLE Conference 2016 held at IIT Guwahati, etc. She has also contributed a research article in a special section for the upcoming book titled "Methodological Issues in Management Research: Advances, Challenges and the Way Ahead", which shall be published by Emerald. She is currently pursuing her Ph.D. and working on two research articles.
Being a state level chess champion and a national level chess player; she acknowledges the importance of sports along-with academics.