Every company has Big Data in its future and every company will eventually be in the data business.

– By Thomas H. Davenpor
Why MBA in Business (Big Data) Analytics?
Today's market requires skills in big data technologies, advanced statistics, machine learning, data security, cloud application development, and innovative thinking. From ordering food to entertainment to autonomous vehicles, each of us will be engulfed by more data than we are neurologically equipped to handle. The scale and ubiquity of data are already forcing corporations to find ingenious ways to analyze, track, and leverage data for strategy, and operations.
As data volumes continue to explode, businesses need to continually upgrade the education and skill level of their employees to fully utilize the power of data for a competitive edge in the market.
Dr. Saroj Mahapatra, Director, KSOM
1. Exponential growth of Big Data market
The Big Data market is predicted to grow exponentially across the world and it shows no signs of deceleration. In step with NASSCOM, the Indian Big Data analytics sector is expected to grow to achieve USD 16 billion by 2025 from the present level of USD 2 billion.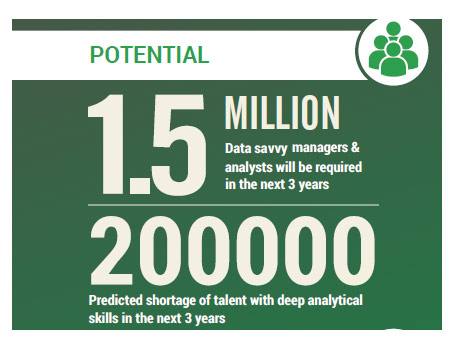 2. Big Data is used in every industry
Data professionals are not restricted to work for just a few industry segments but their contribution is for all kinds of industry verticals. You can work in any of the domains like finance, manufacturing, information technology, communications, retail, logistics, and automobiles.
Each industry uses Big Data for taking a competitive advantage and making data-driven decisions
Prof. Manoj Jena, Program Chairperson, Business Analytics
3. Better career opportunities & high salaries
With the increase in the datasets across the Universe, the demand for Big data analytics is very hot. According to estimates, the data will further grow to zettabytes in 2025. This means the need for Data Scientists, Data Engineers, and Data Analysts will also increase further in the future.
60% career with graduation in Engineering, Science, Commerce, Economics, Statistics, Mathematics or Business administration only. Apply through KIITEE Management, KIITEE or your CAT/MAT/XAT/CMAT score.
Prior work experience will carry additional weightage in selection. Total Seats – 30
MBA in Business Analytics is covered in 4 semesters. The subject allocation is done as per the course requirement of the respective institutions. The first-year syllabus is common to all the streams, with specializations being formally divided and focused upon in the final year with 16-20 months of on-the-job internship in the 4th semester.
The table below lists the subjects taught in MBA in Business Analytics syllabus.
Semester – I
Financial Reporting and Analysis
Human Resource Management
OB: Individual / Group Dynamics & OT
Legal & Ethical Aspects of Business
Managerial Computing & Software
Economic Environment of Business
Analytic Toolbox
Data querying, Data processing using SQL
Advanced Stat and Probability for Data Science
Multivariate Data Analytics using SPSS
Semester – II
Transforming Businesses through IT
Science & Art of Marketing
Business Operations & Value Chain
Logistics, Supply Chain & E-commerce
Statistics and Business Research
Strategic Management
Business Analytics
Predictive Analytics using SAS
Data Mining and Business Intelligence
Hadoop & Big Data Management
Semester – III
Data Analytics using R
Machine Learning & AI
Text mining and analytics
Elective-I
Elective-II
Elective-III
Elective-IV
Elective-V
Electives for Semester-III
Credit Risk Analytics
Digital Marketing Analytics
Financial Time Series & Analysis
HR Analytics
Internet of Things
Introduction to Marketing analytics
Quantitative Finance using R
Supply chain analytics
Retail Analytics
Advanced Business Analytics
Semester – IV
10-20 WEEKS OF IMMERSIVE INTERSHIP