S.N. Misra
Dean
dean@ksom.ac.in
IES, IDAS, Ph.D. (Economics), MA (Applied Economics)
Prof. S.N.Misra, did his MA in Applied Economics with International Trade and Statistics as his special papers with first class. He did his Ph.D. (Economics) on "Challenges, Before Self-Reliance in Critical Defence Technology", a pioneering area on the subject. Initially he was the Indian Economics Service (1976-79) when he did Cost Benefit Analysis of World Bank Projects and handled International Development Agency (IDA) desk. Thereafter, he was an Officer in the Indian Defence  Accounts Service (1979-2012), when he served as Director (Finance) with DRDO, Financial Advisor and Joint Secretary to Indian Air Force & JS (Aero Space). He authored the Defence Procurement Manual (2005), drawing encomiums for the Prime Minister's Office. Before voluntary retirement in 2012, he was Principal Controller of Defence Accounts (Navy) & PCDA (Southern Command) in the rank of Addl. Secretary to Govt. of India. He was  trained in IRBM, California, Defense Acquisition University, Washington, Marshall Institute of Strategic Studies, Munich, IIMs, Calcutta and Bangalore.
Post retirement, he teaches Economics and Constitutional Law in KIIT University and contributes handsomely to prestigious journals on Development Economics, Defence and Public Policy. He is a regular columnist in Orissa Post and speaks passionately in important fora. He also writes in a blog : misrasn54@wordpress.com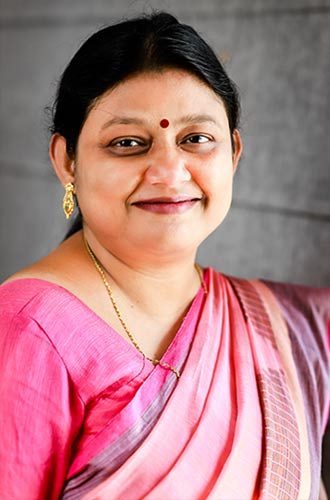 Ipsita Nayak
Assistant Professor
ipsita.nayak@ksom.ac.in
M.A., M.Phil. (Ravenshaw Autonomous College) , PhD (Utkal University)
She has completed her M.Phil. from Ravenshaw (Autonomous) College and a short-term course in Communication and Management Essentials from IIT, Kharagpur. She has done her doctoral research on the theme of "Social Exclusion" in the area of fiction and has been awarded PhD degree from Utkal University. She has a throughout-first-class career and more than 13 years of teaching experience in the area of Communicative English, Business Communication and Managerial Communication. She conducts training programmes for employees at various capacities in different organizations. She has designed and facilitated training at NINL, NTPC, Tata Power, and Toshiba.
She has an expertise in designing activity-based learning sessions and provides personalized solutions to the problems concerning the communication competency of students/ trainees. She believes in upgrading herself with perpetual research. Her research orientation is reflected in her numerous presentations in seminars and conferences and in her publications in both print and electronic media.
Ashok Kumar Sar
Professor
aksar@ksom.ac.in
PGDM (XIMB), Ph. D
He has 20 years of working experience with Bharat Petroleum Corporation Limited (BPCL) in various managerial capacities, with responsibilities in areas such as Marketing Operations, Sales and Supply Network Planning & Development, Business Development in Retail, Industrial & Consumer Segments, LPG and Lubricants; Training & Development; Business Partner – Human Resource Management; Management Control and Reporting Systems; and Enterprise Resource Planning. He also has 19 years of academic experience, last 12 years, being in full time teaching positions. He served as the Dean of Faculty, KIIT School of Management during 2010 – 2016. He teaches core courses in strategic management and Business Ethics and Corporate Social Responsibility. He has conducted MDPs for working executives in the areas of personal effectiveness, building learning organization, strategy execution and quality & effectiveness through systems thinking. He has also developed an eight weeks executive education programme in general management for young working executives. He is in the panel of visiting faculty members at the Odisha Judicial Academy, and trains the state Judicial Officers on Management Skills.
He has published ten case studies and five research papers in the areas of strategy & organization. He is currently working on two research projects,
a) Resource Configuration in Family Businesses: Linking Resources, Strategy Formulation & Implementation and Technological Opportunities to Performance; and
b) Value, Rareness, Competitive Advantage, and Performance: a conceptual-level Empirical investigation of the Resource-based view of the firm in the Indian context.
Pooja Mohanty
Assistant Professor
pooja.mohanty@ksom.ac.in
MA (Utkal)
On Study Leave
Prof. Mohanty is an M.A with First Class in English from Utkal University. She has 8 years of teaching experience in corporate and academics. She is presently pursuing her PhD. She has participated in various seminars, conferences and workshops in English Literature and Language. Her areas of interest include Creative writing, Phonetics, Renaissance Literature, English and American Drama and Poetry, Literary Theory & Criticism and Communication.