To me, a building – if it's beautiful – is the love of one man, he's made it out of his love for space, materials, things like that

–Martha Graham
Why MBA in Construction Management
In India, the construction industry is in the starting phase and hence offers vast opportunities to construction management professionals. During the fiscals 2020 to 2025, sectors such as Energy (24%), Roads (19%), Urban (16%), and Railways (13%) amount to around 70% of the projected capital expenditure in infrastructure in India. The NIP was announced in the Union Budget and is aimed at helping India become a $5 trillion economy by 2025.
1. Plethora of Opportunities
Post Graduate candidates specializing in Construction Management could become Planning Engineers, Project Managers, Controllers and Monitors, Procurement and Coordination Executives, Project Cost Estimators, Project Risk Managers, Project Quality Managers, Project Leaders, Project Schedulers, Assistant Managers, and Planning Managers in construction companies in collaboration with specialists such as architects, structural engineers, electrical engineers, sustainability experts, finance experts, and others.
Job opportunities are plenty in Large Development Companies, International Consulting Firms, Multinational Firms, Government Sector Organizations & Construction Firms.

Dr. Saroj Mahapatra, Director, KSOM
Total project capital expenditure in infrastructure sectors in India during the fiscals 2020 to 2025 is projected at over Rs 102 lakh crore. According to the Project Management Institute report, (Project Management Job Growth and Talent Gap 2017-2027) India will require 70 lakhs new project (construction) managers in next 10 years. India will emerge as the fastest-growing country in the world for project management-oriented employment.
As per research, as many as 97% of graduate engineers are seeking jobs either in software engineering or core engineering. However, only 3 percent of graduate engineers have the necessary skills to be employed in the product or software market, and close to just 7 percent can handle core engineering tasks.

Prof. Mohibullah, Program Chairperson, Construction Management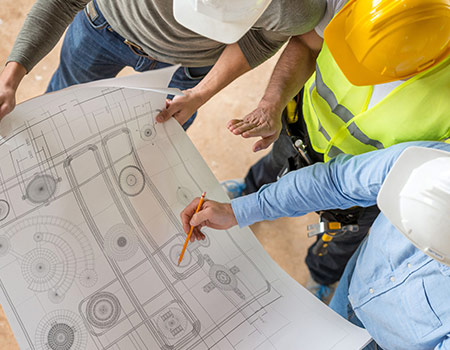 The pedagogy will comprise of lectures by specialized faculty, case discussions, and hands-on exposure to relevant software and tools. Concepts will be explained using examples drawn from the real life and will cover current trends and market practices. The institution's education policy is centered on equipping the candidates with adequate tools to approach real-time problems with creative and dynamic, yet industry-relevant solutions.
Eminent professionals from the industry will share their experiences and enable aspiring students to broaden their vision. Technical talks will be conducted by very senior people from the construction industry.
60% career with graduation in Architecture, Civil Engineering, Design Engineering, Industrial Engineering, Mechanical Engineering, Structural Engineering, Electrical Engineering, Electronics & Instrumentation. Other engineering branches may apply too. Apply through KIITEE Management, KIITEE or your CAT/MAT/XAT/CMAT score. Working professionals may apply too.
Prior work experience will carry additional weightage in selection. Total Seats – 30
MBA in Construction Management is covered in 4 semesters. Through classroom learning is given emphasis during the course, students are required to undergo live site visits and do mini projects at various construction project sites for which the information gathered from business/industry is analyzed and presented in the form of reports. Important project management tools like Primavera, MSP, MS Excel sessions will be provided to the student to equip them for better managing skills of the projects. Every student in the final semester of the program is required to undertake a project assignment under the guidance of a faculty supervisor. The student should choose a topic on which primary data is to be gathered and analyzed in order to prepare a dissertation, which is evaluated by a panel of experts.
The table below lists the subjects taught in MBA in Construction Management syllabus
Semester – I
Financial Reporting and Analysis
Human Resource Management
OB: Individual / Group Dynamics & OT
Legal & Ethical Aspects of Business
Managerial Computing & Software
Economic Environment of Business
Concepts & Models in Construction Project Management
Construction Methods & Technology
Construction Contract Management, Bidding & Tendering
Quantity Surveying & Estimation
Semester – II
Transforming Businesses through IT
Science & Art of Marketing
Business Operations & Value Chain
Logistics, Supply Chain & E-commerce
Statistics and Business Research
Strategic Management
Construction Equipment Management
Managing Risks in Construction Projects
Project Quality & Safety Management
Information Technology and Systems for Project Management
Summer Internship
Semester – III
Electives Bouquet
Business Development and Project Marketing
Public-Private Partnership in Infrastructure Development
Real Estate Development, Marketing & Management
The Legal Environment of Construction Projects
Managing Infrastructure Projects
Building Information Modeling
Bridge Construction Technology and Management
Roads and Highway Project Development
Port Infrastructure Construction & Management
Management of Oil and Gas Projects
Management of Underground Construction and Marine Structures
Semester – IV
10-20 WEEKS OF IMMERSIVE INTERSHIP