Every company has Big Data in its future and every company will eventually be in the data business.

– By Thomas H. Davenpor
Why MBA in Business (Big Data) Analytics?
Today's market requires skills in big data technologies, advanced statistics, machine learning, data security, cloud application development, and innovative thinking. From ordering food to entertainment to autonomous vehicles, each of us will be engulfed by more data than we are neurologically equipped to handle. The scale and ubiquity of data is already forcing corporations to find ingenious ways to analyze, track, and leverage data for strategy, and operations. As data volumes continue to explode, businesses need to continually upgrade the education and skill level of their employees to fully utilize the power of data for a competitive edge in the market. Listed below are the few reasons you should think of career in Business (Big Data) Analytics
1. Exponential growth of Big Data market
The Big Data market is predicted to grow exponentially across the world and it shows no signs of deceleration. In step with NASSCOM, the Indian Big Data analytics sector is expected to grow to achieve USD 16billion by 2025 from the present level of USD 2 billion.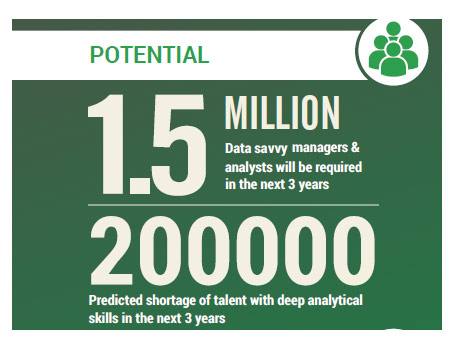 2. Big Data is used in every industry
Data professionals are not restricted to work for just a few industry segments but their contribution is for all kind of industry verticals. You can work in any of the domains like finance, manufacturing, information technology, communications, retail, logistics, and automobiles. Each industry uses Big Data for taking a competitive advantage and making data driven decisions
3. Better career opportunities & High salaries
With the increase in the datasets across the universe, the demand for Big data analytics is very hot. According to estimates, the data will further grow to zettabytes in 2025. This means the need for Data Scientist, Data Engineer, and Data Analysts will also increase well in the future.
B.Tech. (CET Bhubaneswar), M.Tech. (IIT Bombay), PGDM (IIM Calcutta)
---
Worked at: IiAS(Capital markets), Dana Automobiles, Geometric Global, Wipro
Area: Analytics & Operations

B.Tech, PGDM (XIMB), Ph D
---
Worked at: SAIL, Sonata Software Ltd, Oracle India, Quark India, Four-Soft and Karak Technologies
Area: Operations & Analytics

B.Arch (IIT Kharagpur), PGPM (IIM Lucknow)
---
Worked at: ITC Limited and Nokia India Pvt. Ltd
Area: Marketing
B.Tech (CET Bhubaneswar), PGDM (IIM Lucknow)
---
Worked at: Hindustan Petroleum, Ingersoll Rand
Area: Operations & Analytics
PGDM (XLRI Jamshedpur), B. Tech (IIT – BHU, Varanasi)
---
Worked at – ITC, Nokia and IBM
Area: Marketing
Graduates in Engineering, Science, Commerce, Economics, Statistics, Mathematics, Business administration. CAT. MAT, XAT, CMAT scores are desirable. Working professionals can apply too.
MBA in Business Analytics is covered in 4 semesters. The subject allocation is done as per the course requirement of the respective institutions. The first year syllabus is common to all the streams, with specializations being formally divided and focused upon in the final year with a 16-20 months of on the job internship in the 4th semester..
The table below lists the subjects taught in MBA in Business Analytics syllabus.
Semester – I
Accounting for Managers (BM 5204)
Human Resource Management
Marketing Management – I
Managerial Economics – I
Productions & Operations Management -I
Information Technology for Managers
Analytic Toolbox
Data querying, Data processing using SQL
Quantitative Techniques – I
Multivariate Data Analytics using SPSS
Semester – II
Corporate Finance – I
Marketing Management – II
Productions & Operations Management -II
Business Ethics and CSR (BM6703)
Communication and Information Management
Quantitative Techniques – II
Business Analytics
Predictive Analytics using SAS
Data Mining and Business Intelligence
Hadoop & Big Data Management
Semester – III
Data Analytics using R
Machine Learning & Artificial Intelligence
Advanced Stat and Probability for Data Science
Text mining and analytics
Elective-I
Elective-II
Elective-III
Elective-IV
Electives for Semester-III
Credit Risk Analytics
Digital Marketing Analytics
Financial Time Series & Analysis
HR Analytics
Internet of Things
Introduction to Marketing analytics
Quantitative Finance using R
Supply chain analytics
Retail Analytics
Advanced Business Analytics