Finance for non-finance executives of Hindalco Industries
November 14, 2011
Seminar Talk: Mr. Kalyan Banerjee, Head of Learning, MindTree
January 25, 2012
2nd National Marketing Conclave
KIIT School of Management organized a National Marketing Conclave on the topic "Customer Engagement: Changing Paradigms". The day long conclave was attended by industry professionals, academicians and research scholars from across the country and abroad.
The inauguration, held today at a packed auditorium here, was attended by Dr. Achyuta Samanta, Founder – KIIT and KISS, Mr. Videh Jaipuriar, CEO – Jubilant Industries Limited, Mr. Salil K. Sahu, MD – Home Stores India and several representatives from Corporate, Academicians, Research Scholars, Members of the Faculty and Students.
In his welcome address, Dr. Samanta said that customer engagement is the key to success in today's business scenario. The Vice Chancellor, KIIT University, Prof. Ashok Kolaskar, spoke on the changing paradigm of customer interaction and retention. Prof. Ashok Sar, Dean – KIIT School of Management, introduced the convention to the audience and highlighted how customer engagement is an extension of customer relationship management. Mr. Jaipuriar said that in today's scenario customers are offered wide range of choices and have reduced attention span. He said organizations need to constantly be in touch with the customers to survive in the market. Mr. Sahu focused on how changes in the lifestyle and the impact of digital world have redefined customer behaviour. He also elicited how to handle complaints with some real life examples.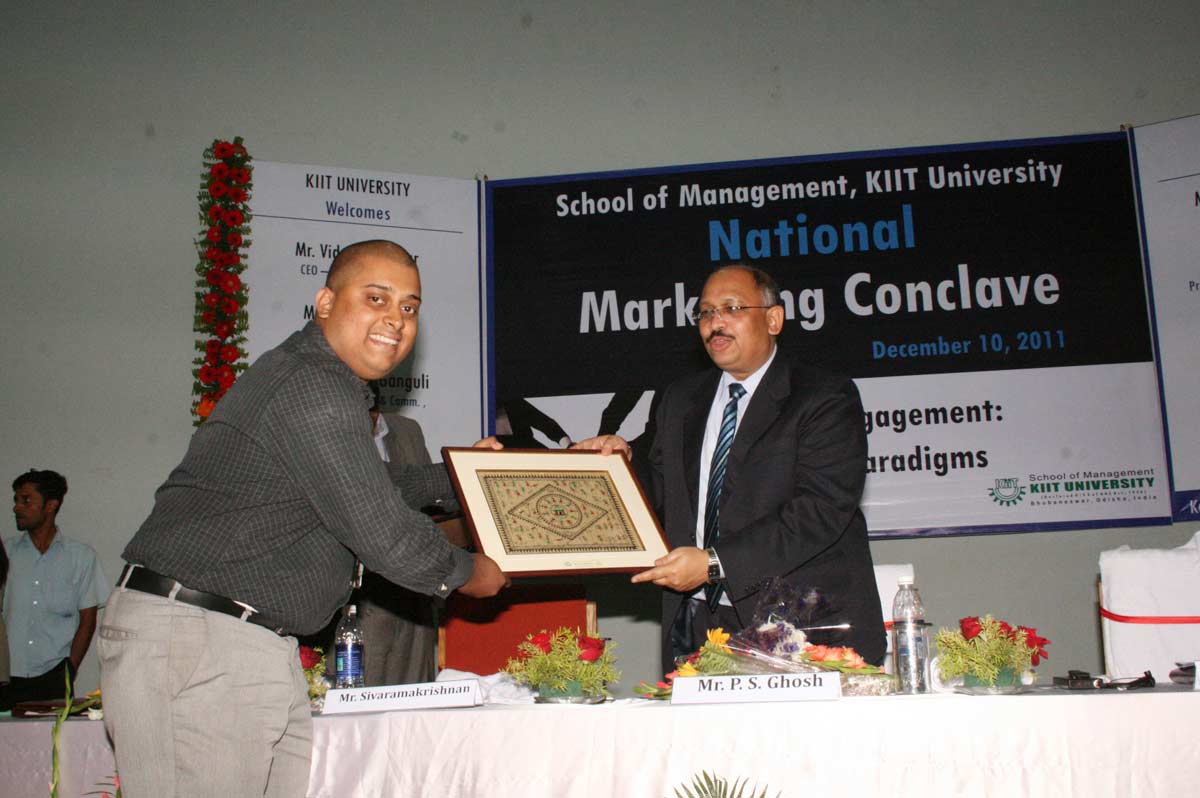 The afternoon session predominately focused on measuring customer engagement. Mr. Indraneel Ganguli, SVP, Mahindra Satyam explained the real life case study on metamorphosis of scam affected Satyam to the most customer friendly company post acquisition. Ms. Meenal Jadhav, Principal Consultant – Heidrick & Struggles emphasized on cultural reorientation needed for customer engagement in present context. Mr. Sankar Ramamurthy, ED – PWC highlighted on adaptation of marketing intelligence tools to provide valuable marketing insights.
The final session had the theme "Engagement Improvisation through technology". Speaking on this Mr. V. Sivaramakrishnan, President Distributed Learning Services – Manipal Group explained the online tools to capture customer profile. Mr. P.S.Ghosh, Director Commercial – Pfizer spoke extensively on technology and human interface mix for customer engagement. Finally, Mr. Biju Zachariah, Business Head, Excelsoft reinforced the concept of customer engagement through three different case studies.
The topic of the conclave was quite unique and contemporary in the field of management and was highly appreciated by the participants. The conclave was conceptualized and organised by Marketing Department of KIIT School of Management.