Rabi N. Subudhi
Senior Professor
rnsubudhi@ksom.ac.in
M.Phil. (Stat), Ph.D. (Management).
Prof. Subudhi is presently a Senior Professor in the area of Quantitative Methods – Decision Sciences, with over 32 years of teaching experience at University level. He has served earlier at Berhampur University, VIT B-School of VIT University, and KIIT School of Rural Management (KSRM), for their MBA programmes. He has done FDPM from IIM Ahmadabad. He received Senior Research Fellowship (SRF) award of CSIR, Govt. of India, for his doctoral research.
He is an active member of many reputed international academic society, like: American Society of Engg. Mgmt (ASEM), ISA-RC (International Sociology Association 'Research Methodology' Sec.), IFORS, ORSI, ICA and ICAS (Int. Conv. of Asian Scholars).
He has published/ edited 8 books and authored over 60 research papers. He is an active member of many professional academic bodies and also member of 'Board of Studies' of different Universities. For 6 years he was the editor of management research journal 'Strategy' (of BU), and presently in charge of editing, KIIT Management Research Journal – Parikalpana. He has also published many articles in regional language and takes interest in Children's literature. He was the founding editor of a children's fortnightly, 'Suman'.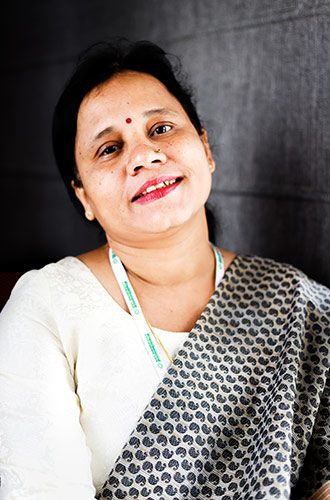 Sasmita Mishra
Associate Professor
sasmita.mishra@ksom.ac.in
M.A, M. Phil. (Utakal), Ph. D. (IIT KGP)
Prof. Mishra is currently an Assistant Professor in the area of Organisational Behaviour and Human Resource Management at KSOM. She has done her M.A., M.Phil. in Psychology from Utkal University and Ph.D. in Social Science from IIT Kharagpur. She has also qualified UGC NET test and obtained Scholarship to pursue Ph. D. at IIT Kharagpur.
Prof. Mishra has 11 years of teaching experience in B-schools. Her area of interest includes Business Research Methods, Organisational Behaviour, Human Resource Management, Performance Management System, Training and Development. She has published number of papers in referred international journals such as Journal of Environmental Psychology, Journal of Applied Social Psychology, Asian Journal of Social Psychology, Psychology and Developing Societies etc.
She has also worked at L & T Heavy Civil Infrastructure Independent Company as Training Manager. While working at L & T, she was involved in Designing training / intervention programmes / and imparting training in different topics such as Time management, Stress management, Interpersonal Skills, JOHARI Window, Emotional Quotient, Team Building, Work-life balance, Leadership, and Decision making.