Buddhaditya Padhi
Assistant Professor
buddhaditya.padhi@ksom.ac.in
PGDM-AdCom, MBA (Marketing), Ph.D (Pursuing )
Prof. Padhi has over 15 years of work experience, of which 6 years has been in the industry and another 9 years in academics.   He has handled brand communications at a national level for companies like  Daikin Air Conditioners and  Satnam Overseas Ltd (Kohinoor Foods) in the capacity of brand manager. He started his career at Leo Burnett where he has handled advertising for brand accounts such Coca-Cola, Bajaj Fans, and Color Bar.   Prior to joining KSOM, he has worked with various academic institutions in the eastern region. He is also pursuing his doctorate work in the area of advertising. His teaching interests primarily are into advertising and IMC, brand management, and consumer psychology. He also has a deep passion into photography and Buddhist studies.
Surya Narayan Mishra
Assistant Professor
surya.mishra@ksom.ac.in
B.Arch (IIT Kharagpur), PGPM (IIM Lucknow)
He has worked with leading companies like ITC Limited and Nokia India Pvt. Ltd. in diverse roles in Sales and Distribution and Brand Marketing. He has helped shape some of the upcoming brands in personal category with ITC Limited. He has been a Merit-Cum-Mean Scholar at IIT Kharagpur, an NTS Scholar, an National Science Talent Scholar for 5 years consecutively, a winner in Regional Mathematics Olympiad and Astronomy Olympiad and national camp member.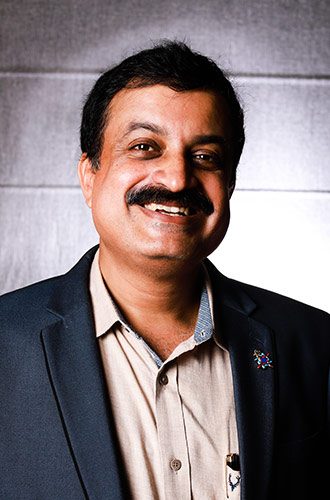 Kumar Mohanty
Professor, Director- Corporate Relations
kumar@ksom.ac.in, m.kumar@kiit.ac.in
B.Tech., PGDM (XIMB), Ph.D.
B.Tech with PGDM from Xavier Institute Of Management, Bhubhaneswar with more than 14 years of experience as a Marketing Manager with Nicco, then as Branch manager with Jenson and Nicholson and Finolex Cables as an AGM-Sales and as Business Head with IMS before joining KIIT.
Sugato Tripathy
Assistant Professor
sugatotripathy@ksom.ac.in
B.Tech (VTU)., MBA (IBS Hyderabad), UGC NET (2012), PhD, KSOM, KIIT (Pursuing)
Awarded the best faculty of KSOM by KIIT University for 2019, he has 12 years of experience with 5 years in corporate and 7 years in academics. His corporate stint was with HDFC Bank – Credit Cards, where he was in charge of product and portfolio management. His expertise lies in new product development, branding, strategic alliance, merchant acquiring, revenue generation & cost control, channel management, team building, service delivery, catalogue marketing and statutory compliance. During his stint with HDFC Bank, he was instrumental in forging several national and key regional merchant tie-ups across the categories of electronics, telecom, travel, jewellery and personal care. He has also won the Master Card Hall of Fame Award for handling a joint Pan India program, which was judged as the best usage program by any bank in Asia. Apart from his teaching assignments, he is currently the Head of Branding and Marketing for KIIT School of Management and KIIT School of Rural Management.
Joydeep Biswas
Assistant Professor
joydeep.biswas@ksom.ac.in
PGDM (XLRI Jamshedpur), B. Tech (IIT – BHU, Varanasi)
Joydeep has close to 8 years of industry experience in premier companies like ITC, Nokia and IBM. He has worked in domains of Sales, Distribution Management, Brand Marketing and CRM. His experience spans across industries like FMCG foods, tobacco, mobile devices and IT services. Joydeep was a recipient of academic merit scholarship by Provident Fund of India at IIT BHU. Before joining KIIT, he was heading Kerala for ITC foods as Assistant Branch Manager.
Biswajit Das
Professor
biswajit@ksom.ac.in
M.A. (Eng), M.B.A., LL.B., M.A. (Pub.Admn.), Ph.D.(Mgmt) Utkal
Dr. Das joined KIIT University since 1999 and has 30 years of experience in academia, administration and government. He has authored 12 books (national and International), 194 research papers (National and International), awarded with 21 Ph.D. research scholars (Indian and International) & 8 scholars are under guidance and implemented funded projects. His outstanding books include 'Real Estate Market' (Excel Books), 'Transnational Marketing Strategy' (New Age Publication) and 'Business Communication and Personality Development' (Excel Books). Prof. Das was Member-Board of Management, Member -Academic Council, Deputy Registrar (Academics), Chairperson- Doctoral Programme, Chairperson- Marketing Management Area and has been instrumental in the institution building process of KSOM since its inception. He has Board of studies member of several state and central universities and external expert for Ph.D. scholars, invited as speaker and conducts MDP.
Prof. Das is a visiting external expert (opponent) to Tallinn University of Technology (TUT), Estonia-Europe for doctoral research and has presented sever research papers in national and international conferences (adjudged with best paper) in South East Asia, Europe, Middle East, particularly in NTU-Singapore, SQU-Oman, AIT-Bangkok and TUT-Estonia in the domain of value creation, servitisation, Economic inclusion, digital markets, disaster resilience, communication & advertising , real estate and eco-tourism.
Arvind Tripathy
Assistant Professor
arvind@ksom.ac.in
MBA, Ph.D. (Management), FDP (IIM Ahmedabad)
Prof. Arvind Tripathy is associated with School of Management since 2008. He has 25years of experience consisting of 7 years of corporate experience and 18 years in academics. A Ph.D. in Management in the marketing area, he is an alumnus of the Department of Business Administration, Utkal University. He is an alumnus of IIM Ahmedabad (FDP program 2013). His Ph.D. topic was "A multilevel exploration of factors influencing retail image and patronage and service quality assessment of retail centres". He was associated with the advertising industry in Mumbai and Bangalore and media services in IT training Kolkata. Later he moved to the academic world of management education.
Apart from his teaching assignments, he is actively involved in MDPs in organizations like SIDBI, IDBI Bank, Utkalika, OFSDP, Mahanadi Coal Fields and in-house training programs of All India Radio & Doordarshan. He has been a resource person/trainer in various marketing workshops of national and international fame. 'Enhancing the capacity of middle and small scale enterprises in Orissa Regional Chapter' was a European Union- Govt. of India project. Served as a marketing consultant for 'Capacity enhancing' program for the craftsman and handicrafts trading societies from Orissa organized by Trade Kraft UK and IRFT Mumbai. He is also involved in projects from Indian Council of Social Science Research, New Delhi (Ministry of MHRD, Govt. of India) in social sector as  Co-Project Investigator.
P.R. Sahoo
Associate Professor
prsahoo@ksom.ac.in
Hotel Management, Master in Tourism Management, M.B.A., Ph.D. (Management).
Prof. Sahoo has more than 23 years of experience in both industry and academics. He served at various Managerial positions with Indian Tourism Development Corporation (ITDC) from 1994 to 2003 and was teaching at Birla Institute of Technology, Mesra, Ranchi from 2003 to 2009 as a Reader prior to joining KIIT University in 2009.
He received Ph.D. degree for his doctoral research work on the theme "An Analytical Study on the Perception for the Application of Electronic Distribution System by the Hospitality Industry". He has published several research papers which are indexed in Scopus, ABDC, and UGC approved journals.
He is an active member of many professional academic bodies. He has provided several consultancy services to many leading Hospitality and Service Industries of the country. Prof. Sahoo has conducted five training programmes for Govt. /Corporate Sector agencies. Dr. Sahoo has been a resource person for several Faculty Development Programmes/ MDP/ Workshops/Conferences/ Seminars.
His teaching and research interests include Services Marketing, Hospitality and Tourism Management, E-Commerce, Sales and Distribution.
Abhishek Kumar
Associate Professor
abhishekkr5@ksom.ac.in
MBA, Ph.D.
With over 7 years of industry experience he has served companies like Standard Charted Bank, ICICI Prudential and Tata AIG Life and has been in roles ranging from Manager to Branch Head.
Prof. Kumar has got the highest award and acclamation during his tenure in said organisations. For example, Winner of "Superstar of the Company" in ICICI Prudential, recipient of "Hercules Award" in Tata AIG Life for the financial year 2008-2009. He was sent to Dubai for the best performance where he achieved No. 1 position PAN INDIA. Promoted as Branch Head in 2009 Prof. Kumar became the best Branch Head and received the most prestigious award "Hour of Power" thrice during his stint which depicts his dedication towards work.
His area of research includes Marketing Management and Monetary Policy. More than a dozen research papers in regional and national seminars are to his credit. Prof. Kumar was awarded with ' Dr. Asha Sablok Memorial Gold Medal' for the best conference research paper. He has authored books like "Central Loans to States and Finance Commission","Impact of Global Financial Crisis on Indian Economy", "Micro Finance and Rural Development" and "Market Reforms and Inclusive Growth".
His edited book "Central Loans to States and Finance Commission" has been released by Dr. Montek Singh Ahuwalia, Deputy Chairman, Planning Commission of India in the 93rd Annual Conference of the Indian Economic Association.
Biswajeet Patnaik
Assistant Professor
biswajeet.patnaik@ksom.ac.in
BE ( E&Tc Engg.), MBA
He has six years of corporate experience and over 7 years of academic experience. He has worked in Telecommunication, Media and Education industries across India. His areas of interest include Consumer Behavior, B2B Marketing & Entrepreneurship.