KSOM recently concluded a MDP on The Winning Edge: Augmenting Employee Performance through Communication and Interpersonal Skills
September 13, 2013
KSOM CRICKET LEAGUE (KCL), September 2013
September 28, 2013
4th National Finance Conclave Organized by KIIT School of Management, KIIT University
During his keynote address at the 4th National Finance Conclave of the KIIT School of Management, (KSOM) held on 21st September 2013, Shri Natarajan Chandrasekaran, CEO & MD, Tata consultancy Services, spoke bullishly about the Indian Economy citing the potential of our human capital.
He mentioned that as a nation with huge potential, our fundamental strength for the next decades is the talent that we have. The huge working population that India has, will make critical contributions in various sectors. He added that our short term concern is the devaluation of rupee and in the long term, it is the slowing economic growth. He said that right now we are at a point of inflection and a transformation can be brought about through technology and investments in critical sectors.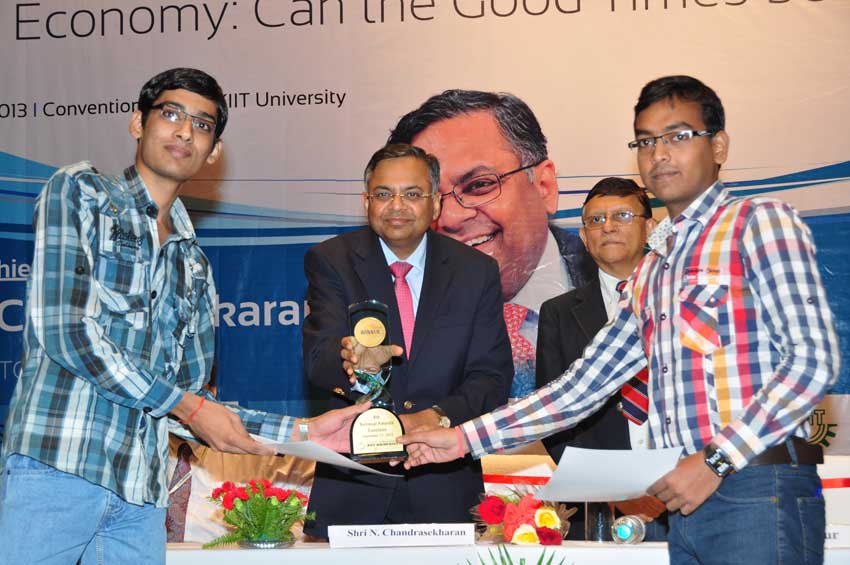 Shri. Chandra also handed out the awards for a National Level essay competition, organized by KSOM.
The conclave, with the theme 'Indian Economy: Can The Good Times Be Back' had a very engaging panel discussion graced by  Dr. H K Pradhan, Senior Professor, XLRI , Mr. Paresh Gupta, CFO, Jubilant Biosys, Ms. Mythili Bhusnurmath, Consulting Editor, Times of India Group and Mr. Brajamohan Misra, Officer-in-charge, Dept .of Economic and Policy research, RBI.
The panelists spoke about three significant problems that India is dealing with; external vulnerability, high gold imports widening the CAD and better market sentiments outside, causing capital flight. Some of the measures suggested were ensuring ease of doing business, better management of external factors, improvement of regulatory and policy environment, and finally, improving the educational system.
The day-long conclave also hosted seven workshops on multiple topics related to finance and economy. They included Overview of the Asset Management Industry by Mr. Bijon Pani, Co-Founder, QA Capital Management, Calculation of VaR: Measuring Risk for Dollar – Rupee Volatility by Mr. Mukund Singh, VP & Head-Treasury, Capgemini India, Financial Modeling and Valuation for Financing of Infrastructure Projects by Mr. Sutanu Pati, Senior Consultant, Infrastructure & Finance Consultants, Raising Capital for Ventures by Mr. Kunal Kumthekar, Founder & MD, Plexus Capital Ventures, Business Analysis in Private Equity by Mr. Raj Naik, Managing Partner, Arbor Strategic Advisors, Equity Research by Mr. Amresh Kumar, Team Manager – Advisory, L&T Infrastructure and Global Mobility Trends by Ms. Jyoti Rathi, Global Employer Services, Deloitte Tax Services.
Earlier, Dr. A. Samanta, Founder of KIIT & KISS, welcomed Shri N. Chandrasekaran and other dignitaries to the conclave. He said that KSOM has a long history of academic excellence, providing industry-focused management education. Introducing the conclave, the Dean of the school, Prof. Ashok Sar, outlined the key strategic challenges and provided insight into the associated issues.
The conclave was well attended by representatives from the industry, academia, professional and government bodies, and students, making it a grand success.
Conferring of Doctorate Degree:
For his admirable vision and leadership in steering his company to become the second largest technology company in the world, Shri. Chandra was conferred the Doctor of Science Degree (Honoris Causa) by the KIIT University in a Special Convocation, earlier in the day.